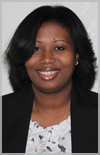 Barbara Faustin was born in Haiti and speaks fluent French and Creole. After high school, Barbara went to Christ the King Secretarial School where she graduated with a Diploma of Vocational Studies. Thereafter, she attended the "Faculte de Droit," which is a law vocational school in Haiti.
In Haiti, Barbara worked for 6 years in the Logistics and Procurement department of CARE International.
She came to Florida in 2000 and began working with Gary. She is now the senior paralegal at Drucker Law Offices.
She handles all litigation matters with Gary and helps prepare a case for closing once a settlement is reached or result obtained. Barbara is delighted to be part of a team where she can be of service to everyone and especially to clients from the Haitian community.
In the office, Barbara primarily handles litigation matters as well as handling collateral source/medical bill issues at the close of a case.
Barbara is married and has two children. The Faustin family resides in Coral Springs.