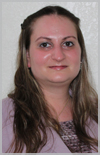 Robyn was born in East Meadow, New York. She was raised and schooled in Fort Lauderdale, Florida.
Robyn holds a Bachelors of Arts in Political Science combined with a Paralegal Certificate from Florida Atlantic University and a Master's in Public Administration from Florida International University.
Robyn's prior work experience was working for a local University where she worked as an Financial Aid Assistant.
Robyn currently helps run her parents' business and is a paralegal in our firm. Her job is to assist in getting demands ready for the claims process including drafting medical bill summaries and civil remedy notices.
Robyn is married and resides in Coral Springs.