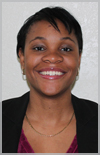 Melissa was born in Montreal, Canada of Haitian parents. She is fluent in French, English and Creole. At the age of 15 she left Montreal and moved to Miami where she attended Miami Killian Senior High School and graduated at the age of 16. After graduation, she obtained a paralegal position at an Immigration law firm in Sunrise.
While working, Melissa enrolled at Miami Dade College and obtained her Associates degree in Pre-law, and then she continued her achievement by enrolling at Florida International University.
Her passion has always been to help others and to work with individuals from different back ground. While attending F.I.U., Melissa continued to work at the Immigration law firm until she graduated from F.I.U. in December 2008 with a degree in Criminal Justice. In July 2009, she obtained her paralegal position at Drucker law offices where she focuses on opening files and getting cases ready for demand. Melissa also prepares clients with the attorney for informal and formal statements as well as for depositions and is learning the paralegal aspects of personal injury litigation.
In her free time, Melissa likes to travel and spend time with her family. One day, Melissa hopes to become an attorney.